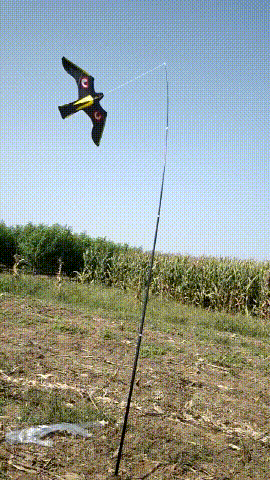 1 Set Hawk Kite with 5m Rod - Emulation Flying Bird Scarer Driving Bird Repellent for Garden Scarecrow Yard Bird Repeller

Material: Nylon + FRP + Glass Fiber
Color: Black/Yellow
Style: Emulation Hawk Drive Bird Kite
Applicable Age: All the crowd
Black Size(L*W): 120 x 60 cm/47.2" x 23.6"
Yellow Size(L*W): 140 x 70 cm/55.1" x 27.5"
Line Length: 2 Meter
Rob Length: 5 m


Features
Level 2 of wind can take off, lifelike, It flies steadily in the breeze.
Lifelike hawk decoy scares away birds and pests and ideal for garden decoration.
Use high-quality light glass fiber reinforced plastic rod, fly safely.
The hawk kite with the reflective eyes and Birds hate shiny moving reflective objects and it will keep far away from these scary hawk kite, which creating a bird free zone. Place it on your garden, lawn, farm, etc.

Package Included
1 x Flying Kite
1 x 2m Line
1 x 5m Straight Rob
1 x Ground Pile